Working during Covid-19:  Notes from Scotland
By Keith Sutherland, social work student, University of Stirling
I am Keith, currently a student in my second year of a Social Work Masters course, based in Stirling, Scotland. I also work part time as a Social Work Assistant in a frontline Children and Families Social Work Team. As a result of the COVID-19 pandemic I have witnessed a significant change in how my social work studies are delivered and how I undertake duties in my professional role. Now the online world is where we co-exist for studying and supporting vulnerable people.
Following the closure of the University campus my fellow students and I did our best to cope with virtual teaching and assessment with little preparation. For example, an oral assessment intended to be face-to-face to assess one's verbal and non-verbal communication evolved into an online video format conducted alone at home. Meanwhile, in my workplace, regular and at times, intense updates to practice were issued by the upper echelons of the organisation, providing strict guidance to be followed when undertaking core duties. My colleagues and I had to ensure flexibility and adaptability against so many paradigm shifts in how we deliver critical services to families in crisis.
Home working became a necessity during the lockdown, not just for me but across the United Kingdom and required my team to consider how we would engage with service users, ensure children and their families are kept safe, particularly those families affected by domestic abuse, problematic substance use and other adversities including poverty. As such, the need to be creative with technology to deliver specific interventions or undertake regular welfare 'check-ins' with children and families became the new norm. For example, checking in around how families are coping with changes to their daily routine given the impact of parental home working and school closures. What has become clear to me during the pandemic is the importance of relationship-based practice as the core of social work.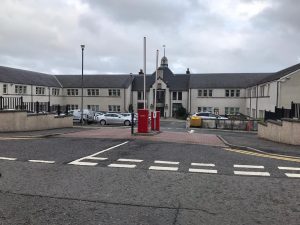 The use of technology and its availability has raised questions about the poverty gap and what families need to engage in a technological world. For example, in practice, I am aware social workers have attended home visits to demonstrate how to use computer programmes but also provide equipment to allow families from low socio-economic households to participate in this digital world.
Social distancing has created new challenges in how social work can deliver core and sustainable services from behind a computer screen to the most vulnerable in society, in a profession in which relationships and human interactions are so firmly embedded in our approaches. As a student I continue to reflect on these experiences and how the pandemic may shape a different kind of social work practice in the future. I believe there is much that technology has to offer social work going forward but that must not be at any cost in terms of participation, risk and relationships.