Volunteering and social work: Experience of volunteering online with United Nations Volunteers India for COVID19 campaign
Piyush Poddar and Ayush Poddar, Department of social work, University of Delhi. Email- poddar306@gmail.com
Volunteering as a basis for the formation of social work
Social work originated as a voluntary activity, as inferred from Allice Cheyney's definition of it "Social work includes all the voluntary attempts to extend benefits in response to the needs which are concerned with social relationships" (Cheyney 1926, p 24). The evolution of social work as a helping profession in India can be traced back to the socio-religious movements of the 19th century where organizations and reformers employed volunteers to spread modern ideas and change the general population's mind-set. The Charity Organisation Society, established in 1869 in UK and in 1877 in USA, used volunteers as "Friendly Visitors" to determine a client's needs, do recording, give relief and undertake registrations.
Professionalization of social work
At the end of 19th and beginning of 20th century voluntary philanthropy transitioned to professional and scientific social work, as asserted by Friedlander: "A professional service based on scientific knowledge and skill in human relations, which assists individuals, alone or in groups, to obtain social and personal satisfaction and independence" (Friedlander 1955, p 10). In spite of the formalisation and professionalization of social work, the mutual cooperation of volunteers and professional social workers and harmonization of their work is necessary during crises, as I reflect below.
My experience of volunteering online with UNV India for the COVID-19 campaign
Online volunteering has crystallised under Covid-19. It is fast, easy and most of all, effective. The UNV[1] COVID-19 campaign is a task based campaign aimed at building a positive community of V-Force[2] volunteers in the fight against COVID-19.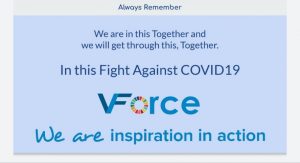 The first task, assigned on April 4th, asked volunteers to spread verified information on the COVID-19 pandemic. Subsequently more tasks were assigned on mental health, person with disability, domestic violence and older people. Apart from these tasks, we questioned existing gender based roles assigned by society, with knowledge shared through webinars. The most innovative part of the volunteering program was the accountability mechanism which required volunteers to submit completed tasks online. Verification of these activities entitled each volunteer to a certificate of recognition. Over years of volunteering experience we have learnt that volunteering is more about how much we are willing to gain from it and less about what it offers to us.
References
Cheyney, A (1926), the nature and scope of social work, New York, The American Association of Social Workers.
Friedlander ,W (1951), concepts and method of social work , USA, Prentice Hall
[1] United Nations Volunteers programme contributes to peace and development through volunteerism worldwide. It is administered by UNDP.
[2] V-Force is a platform for community engagements reaching out to people of all ages, backgrounds and skills and integrating them into a range of activities.