During COVID-19 Outbreak, School of Social Work At China Women's University Cooperated with Professional Social Organizations to Provide Community Services

Prepared by Miao Yan Mei (Associate Professor) School of Social Work At China Women's University
Under the guidance and with the financial support of the China Association for Social Work Education (CASWE), the School of Social Work at China Women's University (CWU) designed service projects and cooperated with Beijing Neighbours Social Services Centre and Beijing Rich Future Social Work Development Centre to provide the following community services:
Setting up support and accompanying activities for community workers.
Ms. Bai Qiuhua is a retired community worker. During the COVID-19 Outbreak, she formed the "Sister Bai" Team to provide advice in community work, emotional counselling, practical responses to Covid-19, and suggestions and resource links to help community workers fight Covid-19.
Practical support of community workers.
The project approached vegetable suppliers to provide home delivery services of affordable vegetable packages for community workers, and relieve the pressures of work on community workers who had almost no time to take care of their own families.
Academic guidance activities for the children of community workers
The project recruited college students from China Women's University as "Internet Volunteers" to provide online academic guidance for the children of community workers. After tutoring the children, each volunteer filled in the service record form, summarised and reflected upon the content of the session, and then modified the content of the next class to facilaitate tutoring according to the specific situation and needs of the children.
Online activities for community residents
The project established online groups of community residents and publicised Covid-19 prevention and control policies. At the same time, the project organized community residents to carry out online activities to reduce the loneliness of their daily life at home.
The project helped the community workers reduce their work pressure, soothe the emotions of residents, and ensured that community workers were fully engaged in fighting Covid-19. At the same time, academic guidance for the children and vegetable bags reduced their guilt when they had no time to take care of their families and children.
The collaboration provided rare service-learning opportunity by engaging social work students on social work practice during the outbreak.  They saw an interesting observation that, while no physical visits was allowed, needs assessment could incorporate anecdotal sources such as WeChat threads into the procedure.
We conclude that this project demonstrates how community workers, deeply engaged in providing essential assistance to communities struggling against Covid-19, have to be supported to deliver better services to those requiring them. Central to supporting these practitioners is ensuring that community workers' concerns about meeting the practical needs about their children and families are addressed.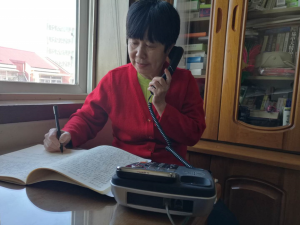 Figure 1: Sister. Bai used her enthusiasm to support community workers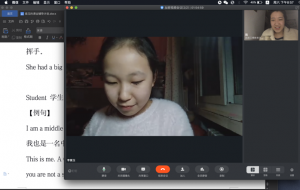 Figure 2: An "Internet Volunteer" was tutoring English for a sixth grader of primary school.