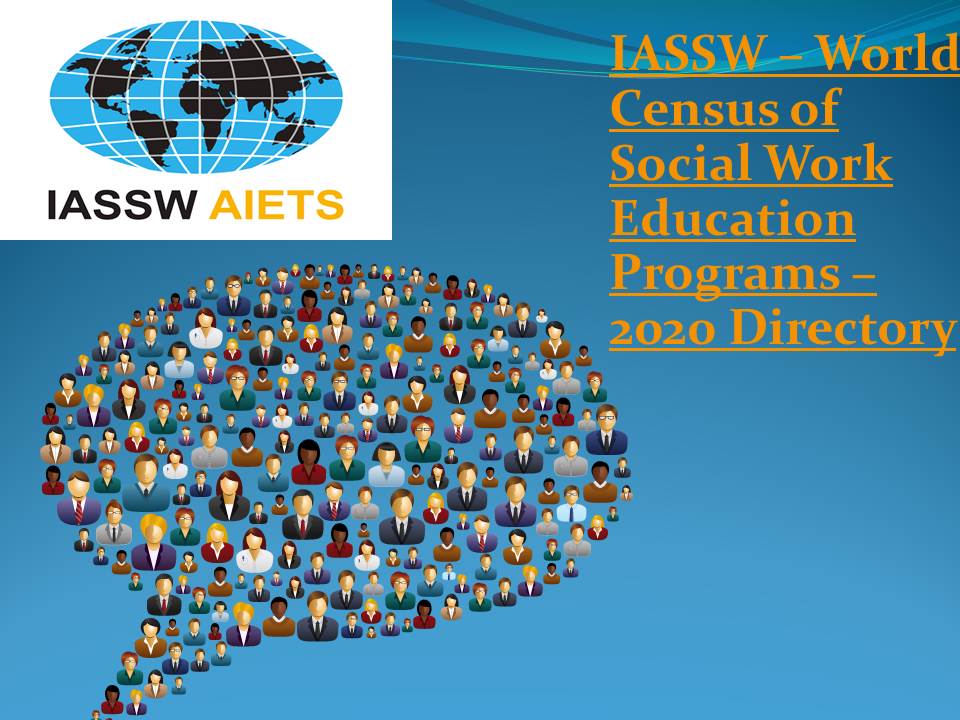 Request to participate: IASSW – World Census of Social Work Education Programs – 2020 Directory
Dear social worker / social work educator.
You are hereby invited to participate in this very brief, but very important survey by clicking on the link below:
https://www.surveymonkey.com/r/IASSW-Census
The average completion time is 9 minutes.
Context:
Every ten years, the International Association of Schools of Social Work (IASSW) conducts a world census of social work education programs offering at least one degree program in social work.
The major outcome of the census is a directory of contact details for all social work education programs in the world.
In the year 2000, the directory contained details of 1384 programs from 114 countries and in 2010 it grew to include 2110 social work degree sites in 125 countries.
By 2020 we are aiming to include every social work training institution in the galaxy.
We need your help so that we can include as many social work training institutions in the world as possible.
Please share this email with your networks.
* Please encourage your social work training institution to become an IASSW member:
* Veuillez encourager votre institution de formation en service social de devenir membre de l'AIESS :
* ご所属のソーシャルワーク教育機関にIASSWへの加盟を促してくださいますようお願いいたします:
* Anime a su institución/universidad a hacerse miembro de AIETS:
* 请鼓励您所在的社会工作教育机构成为国际社会工作学校联盟的成员:
https://www.iassw-aiets.org/membership/
Follow IASSW on Facebook | Suivez l'AIESS sur Facebook | フェイスブック | Siganos en Facebook | 访问国际社会工作学校联盟在Facebook的地址:
https://www.facebook.com/IASSW.AIETS/
Follow IASSW on Twitter |Suivez l'AEISS sur Twitter |ツイッター | Siganos en tuiter | 访问国际社会工作学校联盟在Twitter的地址:
https://twitter.com/IASSW_AIETS/

Free IASSW Magazine | Magasine gratuit de l'AEISS | 無料IASSW機関誌 |Revista IASSW gratis |
国际社会工作学校联盟的免费杂志:
http://socialdialogue.online/

Join the listserv | Joignez-vous à la liste de diffusion | メーリングリストに参加する | Únete a la lista de correo | 加入邮件列表:
https://groups.google.com/forum/#!forum/iassw-institutionalmembers/join
Feel free to share any suggestions, questions, comments or concerns.
N'hésitez surtout pas à nous contacter pour toutes suggestions, questions ou préoccupations.
ご提案、ご質問、コメント、お困りごとがあれば、ご自由にご連絡ください。
Siéntase libre de compartir cualquier sugerencia, pregunta, comentario o inquietud.
请提出建议、疑问、评论或问题。
Census email | Adresse électronique du recensement | 本調査専用のメールアドレス | Correo electrónico del censo | 普查邮箱:
Sincerely,
Dr John Victor Rautenbach
Board Member: International Association of Schools of Social Work (IASSW)
Chair: Standing Committee on the World Census of Social Work Programs
ExCo: Association of South African Social Work Education Institutions (ASASWEI)
e: census@iassw-aiets.org
w: www.iassw-aiets.org
fb: www.facebook.com/IASSW.AIETS
twitter: @IASSW_AIETS
Listserv: https://groups.google.com/forum/#!forum/iassw-institutionalmembers/join