Tripartite Meeting updates
Tripartite Meetings were held on February 10-11, 2020 in London and it was attended by Presidents Annamaria Campanini (IASSW) and Eva Holmberg-Herrström  (ICSW) Silvana Martinez (IFSW), together with IASSW Secretary Barbara Shank, ICSW Executive Director Tom Johannesen and IFSW Secretary-General, Rory Truell.   Lola Casal-Sanchez supported the work interpreting between Spanish and English.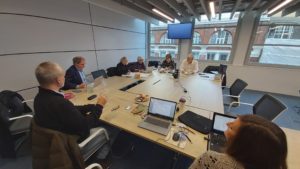 They dedicated these two days to advance their organisations joint interests and to strengthen the partnership steering a common path.
IASSW President -Annamaria Campanini informed "In London during the tripartite meeting we have strengthen our partnership and cooperation in different areas. The priority is the engagement in the new Global Agenda and in the organisation of the future joint conference! Wonderful meeting in a warm and supportive emotional disposition. Thank you to our partners. And together we can make a difference…."
Among other topics, the three organisations prepared a Memorandum of Understanding that provides a framework for the three partners and sets out their objectives. This includes advancing the development and implementation of the new Global Agenda of Social Work and Social Development 2020 – 2030, the organization of global conferences and the organisation of the jointly owned journal published by Sage: International Social Work.

David Jones, Global Coordinator of the Global Agenda 2010 – 2020, Abye Tasse, Global Coordinator of the Global Agenda 2020 – 2030 also participated in the meetings in advancing the common platform.
International Association of Schools of Social Work (IASSW) continue working together with International council of Social Welfare (ICSW) and International Federation of Social Workers (IFSW) for Social Work education, Social development and social welfare across the globe.