The passing of a former social work leader
IASSW is  truly sorry to hear the news of the passing of Sybil Francis of Jamaica. She died at her home on June 3 at the age of 106. Ms Francis was an extraordinary leader in social work education in the Caribbean. Among many other contributions, she was head of the Social Welfare Training Center at the University of the West Indies for more than 20 years. This center provided short-term training to social welfare personnel from many countries in the Caribbean area. Her efforts and those of Center graduates spurred the development of numerous social services throughout the region, including programs on women and development, child care, community development, and family planning. She was a member of the Board of Directors of ICSW, and served as a Vice-President of the IASSW; she also was an important contributor to IASSW's family planning project in the 1970s. Her many accomplishments were recognized in an award given to Ms Francis by the North American and Caribbean Association of Schools of Social Work in 1999.
Given current realities, we should also note her contributions to racial justice. In 1963, Ms Francis was a member of newly independent Jamaica's delegation to the United Nations. She was a member of the UN Third Committee as it was working on the Declaration on the Elimination of All Forms of Racial Discrimination. After "retirement," Francis chaired the Jamaica National Council on Aging and represented Jamaica at the World Assembly on Aging.
The IASSW Board of Directors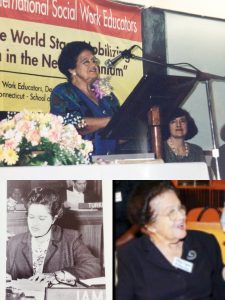 Message & pictures by:
Prof. Lynne M. Healy
Main Representative to the UN, International Association of Schools of Social Work