International Social Work Journal Looking for New Editor(s)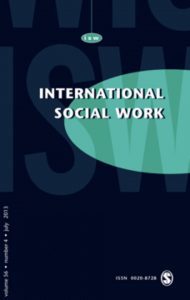 International Social Work is the official journal of the International Association of Schools of Social Work (IASSW), the International Council on Social Welfare (ICSW) and the International Federation of Social Workers (IFSW). The Editor-in-Chief, Professor Vasilios Ioakimidis, finishes his term of office at the end July 2018. The sponsoring organisations – IASSW, ICSW and IFSW – are now seeking a successor for this honorary position.
The position will be for a four year term with the possibility of a renewal for a maximum of a further four years. The current Editor-in-Chief looks forward to working with the new Editor and/or CoEditors elect for a period to facilitate a smooth handover of the Journal. An annual fund is provided for secretarial assistance and expenses. Full editorial support services are provided by SAGE Publishing. The closing date for receipt of applications is 15th April 2018.
For more details, click here: ISW_Editor_Call_2018