WOMEN GLOBAL LEADERSHIP: WOMEN IN THE IASSW REFLECTING ON THEIR LEADERSHIP EXPERIENCES
Full reference:
Symposium to celebrate the 30th anniversary of the Women's Cocos of the IASSW at the SWSD World Congress Dublin, 6th July 2018
Camera: Ana M. Sobocan
Technical Assistance: Gašper Krstulović
Director: Darja Zaviršek, Women Interest Group of the IASSW
Copyright: International Association of the Schools of Social Work, 2018.
Link to the film: https://www.youtube.com/watch?v=oaqUlXbHV3I; published 29. Sept. 2018.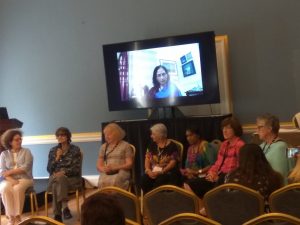 8 women leaders who shared their personal and professional experiences!
WOMEN GLOBAL LEADERSHIP: WOMEN IN THE IASSW REFLECTING ON THEIR LEADERSHIP EXPERIENCES. A CRITICAL WOMEN'S PERSPECTIVE FROM WITHIN. to celebrate the 30 th anniversary of the Women's Caucus in the IASSW: Presentation of Vimla Nadkarni,Immediate Past President, International Association of Schools of Social Work: Vimla Nadkarni's presentation
Past President's : Angie Yuen's presentation