Awarding Honorary Doctorate to Dr. Abye Tasse at VID Specialized University 1), Oslo, Norway.
The event took place on October 12, 2018, during the celebration of the 50 years' anniversary of social work education.
Dr. Abye Tasse was the president of IASSW 2004 – 2008. In 2016, he received the IASSW Katherine Kendall Award to distinguished international social work educators.
Abye Tasse grew up in Ethiopia, and arrived in France in 1979 as a political asylum seeker. He studied in France and got his PhD in sociology from the Ecole des Hautes Etudes en Science Sociales in Paris, where he today held a position as associate researcher at the Centre des Etudes African.
Professor Tasse held various jobs in social work education in France, and became heavily involved in various European networks and research in addition to consultation to various countries in Africa.
He became a French citizen in 2000, and in 2004, he returned to Ethiopia to work as associate vice president and to re-establish social work education at the University of Addis Ababa. Within six years, the University could offer a BSW, MSW and a PhD in social work.
In 2010, Abye Tasse moved to Mauritania to work as the adviser to the Minister of Higher Education and held a professorship in social work and sociology. In 2015, he moved on to Comoros where he until now has been Adviser to the Minister of Education and Research and to the President of the University of Comoros. These days he works for the development of the National Institute of Social Work Education in the Democratic Republic of Congo.
The Board' statement for appointing Abye Tasse as honoray doctor at the Faculty of Social Studies, VID Specialized University refers to his strategic wisdom and use of his international network of highly qualified social workers as well as his own resources and positions in the university sector to develop both academic and management competence in establishing social work education. His work is an example of how social work is a global concept that needs to be shaped locally, and how networks and resources can be linked in untraditional ways to create growth.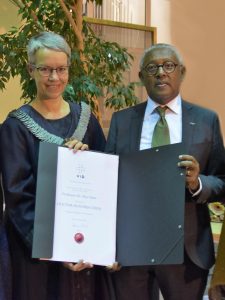 L-R: Rector of VID Specialized University Ingunn Moser and Honorary Doctor Abye Tasse