Hi there,
If you're reading this, you're probably looking for some help regarding the renewal of your IASSW Membership. Don't worry, renewing your IASSW Membership is very easy and this page will outline all the steps that you will go through to sign up for or renew your IASSW Membership.
At any point, if you feel like you're confused and want to reach out to us directly, please don't hesitate to contact us at [email protected]
IASSW Membership Renewal Process
If you're wondering how to renew your IASSW Membership, simply follow the steps detailed below and you should be up and running with an active IASSW Membership in no time.
Case I — You Have Received an IASSW Membership Invoice
We have sent out invoices to past members who would like to renew their memberships on IASSW. These invoices have been delivered by EMAIL and have a single button that links to a special URL that will help you renew your membership. If you have received such an invoice, follow these steps below:
Note: If you already have an account with IASSW and wish to log in, or if you do not remember your password and wish to RESET your password, please visit https://www.iassw-aiets.org/login/ and then return to this page here to renew your membership.
First, open the Email Invoice you have received from IASSW and scroll down to find the 'Renew Membership Online' button. This is what it looks like.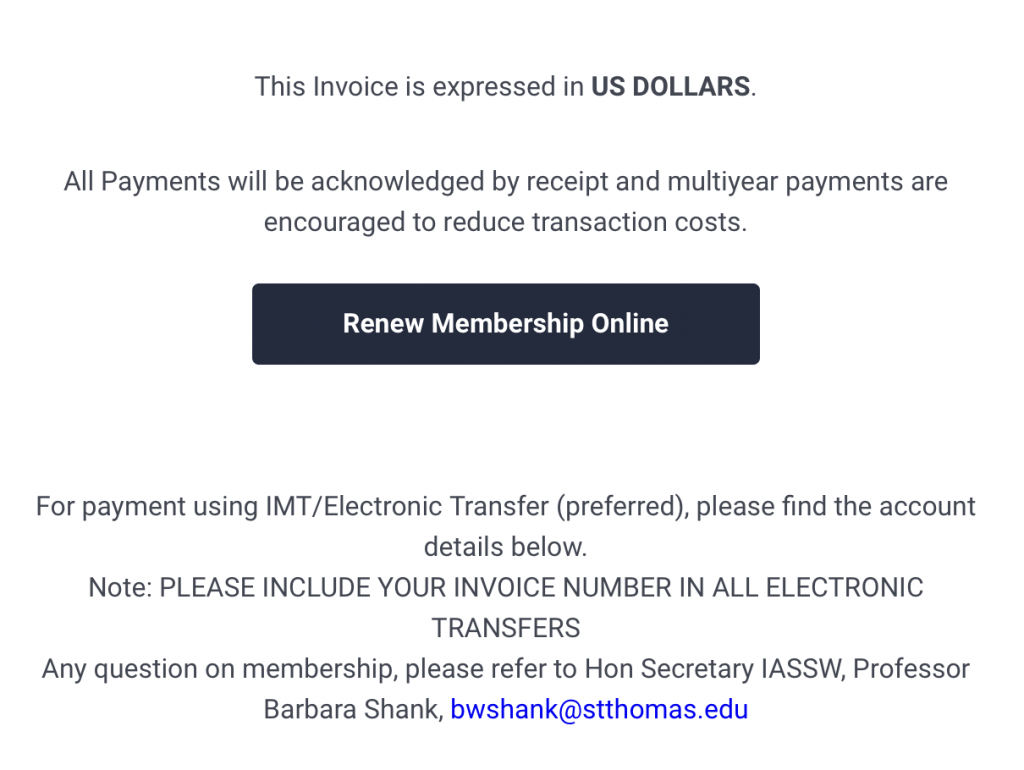 This will open your default Browser app and you will be taken to the Membership Renewal form on the IASSW Website. It should look like this: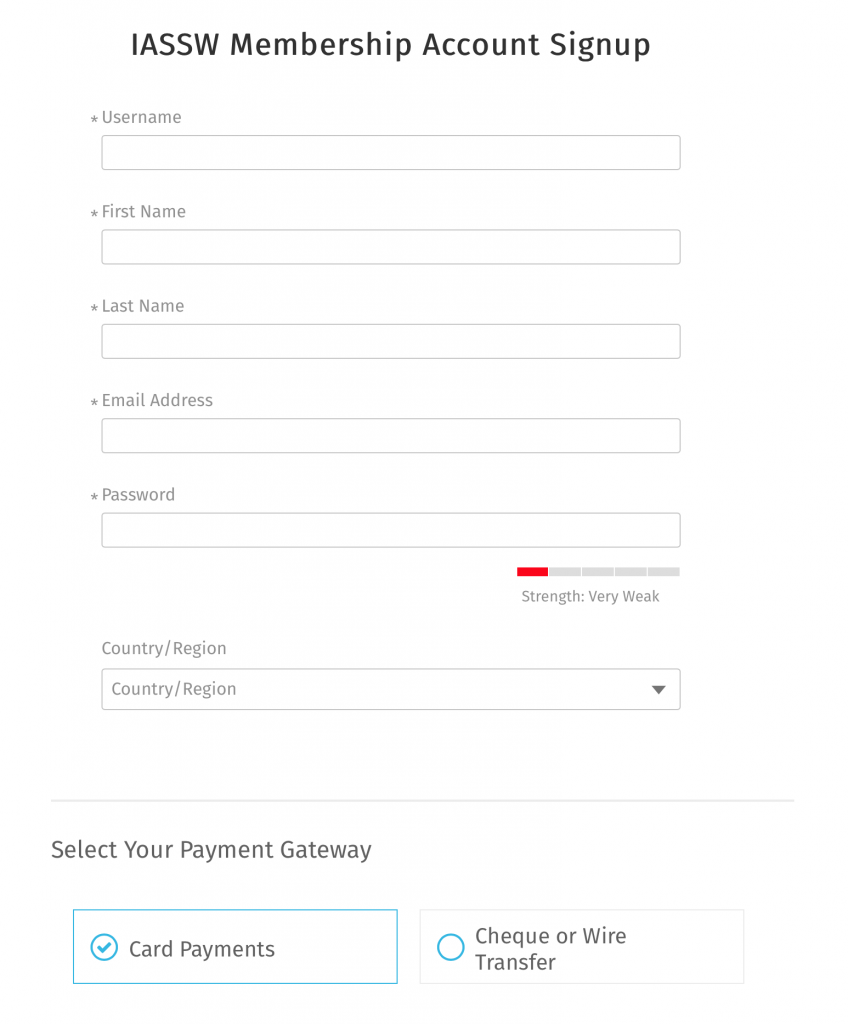 If the link does not work in your Email Client, please visit this link → https://www.iassw-aiets.org/membership/ and manually select the membership type. You will be taken to the correct page for your membership renewal.
Here, fill out your desired username, and password, along with your First Name, Last Name, and Email Address. Next, scroll down further on the page and select your payment method.
If you prefer paying for your IASSW Membership using your Credit Cards, choose Card Payments. Else, choose the Cheque or Wire Transfer option.
At the bottom of the page, you will see a summary of the Membership Plan and the exact amount that you have to pay. Please read this carefully.
If you chose Card Payments, a popup window will appear where you have to enter your Card Details. If you chose to pay using Cheque or Wire Transfer, you will be asked to enter the relevant details in the form itself. When you Submit your membership renewal, we verify these details with our bank before your membership is activated.
That's it! Your Membership Renewal has been submitted to us and we will process and activate your account shortly.
IASSW Account – Frequently Askes Questions